---
Course units taught in English and in other languages
Every faculty offers a variety of course units in English, German, French and other languages. Most of the faculties have a list of these course units on their websites:
IMPORTANT NOTE FOR PROSPECTIVE STUDENTS OF THE FACULTY OF SOCIAL SCIENCES, THE FACULTY OF MATHEMATICS AND PHYSICS, AND THE FACULTY OF HUMANITIES:
The best way to find course units taught at the Faculty of Social Sciences, the Faculty of Mathematics and Physics and the Faculty of Humanities is to use the search engine in the Charles University Study Information System (SIS) at: http://is.cuni.cz/eng/studium. Please note, however, that this system includes course units taught at ALL the faculties of Charles University in ALL languages, including course units taught in Czech. So please make sure you always choose "Faculty of Social Sciences" or "Faculty of Mathematics and Physics" or "Faculty of Humanities" from the drop-down box, and always double-check the language of instruction and the semester in the course unit description.
Please note that the Study Information System does NOT include the full list of course units taught in foreign languages at the other faculties of Charles University! If you are accepted to study at any other faculty than the three above-mentioned faculties, use the faculty website (links are given above) to search for suitable course units. 85-90 per cent of course units taught in foreign languages are repeated every year.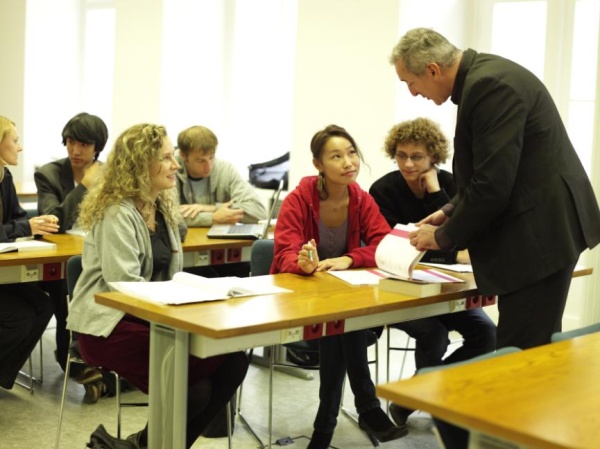 Czech Language courses
Most faculties offer a number of Czech Language courses at various levels, from beginners to intermediate. Incoming students are welcome to register. However, as the courses are not part of the standard curriculum, they are not financed by the Czech Ministry of Education, Youth and Sports. Some faculties may therefore make a small charge to cover their costs. For details of different courses please contact the course/faculty coordinators:
List of Czech Language course coordinators:
Faculty

Course Coordinator

Email

Faculty of Arts

Bc. Jana Tvrzová

Faculty of Education




PhDr. Ludmila Šterbová

Departement of Czech Language

Faculty of Science

Doc. PhDr. Jana Přívratská, CSc.

Faculty of Social Sciences

Edita Frantesová

Faculty of Physical Education And Sports




PhDr. Eva Pokorná, PhD.

Ing. Dana Basařová

First Faculty of Medicine

Prof. PhDr. Milada Říhová, CSc.

Second Faculty of Medicine

MUDr. Rudolf Černý, CSc.

Third Faculty of Medicine

Doc. PhDr. Jana Přívratská, CSc.

Faculty of Pharmacy in Hradec Králové

Mgr. Ilona Shejbalová

Section of Forein Languages

Protestant Theological Faculty

Mgr. Peter Stephens

Faculty of Humanities

Eliška Rolfová
Erasmus Intensive Language Courses (EILCs)
The EILCs are open to students who have been selected for an Erasmus-LLP study period or work placement.
EILCs for Erasmus incoming students are organized by different schools and/or universities, not by Charles University.
If you wish to take part in the EILC programme, please contact the EILC organizing institution directly or contact the Czech National Agency for European Educational Programmes.
Applications must be submitted online to the student's home institution, which is responsible for forwarding the application to the EILC organizing institution.
The courses are held during the summer holidays (usually at the end of August and the beginning of September) and during the winter (until the end of February).
For details, a list of organizing institutions, application forms and contacts, see http://ec.europa.eu/education/programmes/llp/erasmus/eilc/index_en.html
National Agency for European Educational Programmes - Centre for International Services
Senovážné náměstí 24
116 47 Praha 1 (Czech Republic)
Website : http://www.naep.cz/
Email:
Erasmus Mundus joint doctorate TEEME - Text and Event in Early Modern Europe
TEEME is an international doctoral programme in early modern studies funded by the European Union. It is structured around a unique collaboration among university-based researchers in the humanities and the cultural and creative sector in four EU countries (United Kingdom, Germany, Portugal, Czech Republic).
The partnership will foster intercultural dialogue and disseminate the best research in history, literature and culture to the wider community.
Detailed information is available at http://www.teemeurope.eu/index.html.
Outdoor Adventure Education